I was in Taiwan 3-12 February 2015, and though we bought the ticket at the wrong time, experiencing winter at 4-18 degree Celsius was a great experience for us.
I shall not blog about the interesting places in Taiwan, you can search for that online. What I will share with you are the tips of maximizing your trip in Taiwan.
ACCOMMODATION
We stayed in several hotels and youth hostels. Below are the details, price shown is total price for 3 persons.
1. Taipei Beautiful Inn (台北美栈)
Address: 23, Intersection between Hankou Street and Hanchung Street, Wanhua District, Ximending.
Email: btfinn168@gmail.com
Contact number: +886-963-975151 international / 09-63975151 local
Type of bed: 1 Queen sized bed, 1 single bed
Price: 2180 TWD/night
Rating: 4 Stars
Comments: Has a homely feel, but room is too small and congested.
2.
Fengchia Inn
(逢甲INN)
Address: Street 183, Wenhua Road, Xitun District, Taichung. (5 minutes from Fengchia Night Market)
Email: chenlitzu@gmail.com
Contact number: +886-972-185165 / +886-975-175195
Type of bed: 1 Queen sized bed, 1 single bed
Price; 1500 TWD/night (Probably the cheapest and worthiest rate you can find, because this is a hotel room, and only costs 500TWD per person/night)
Rating: 5 Stars
Comments: Comfortable and spacious - totally worth the price.
3.
Yingshan Hotel Alis
han (

阿里山櫻山大飯店)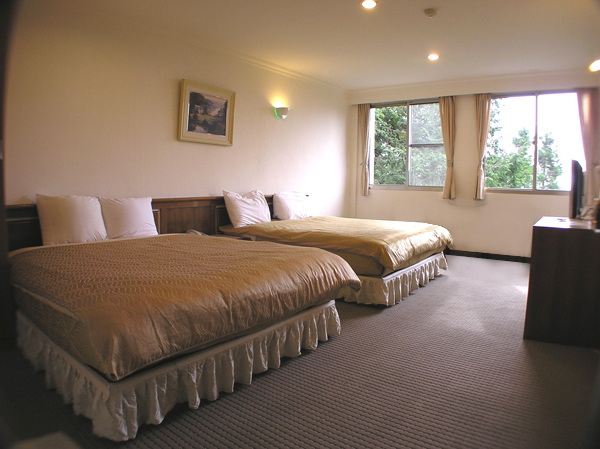 Address:

605, Taiwan, Chiayi County, Alishan Township, 中正村39號
Contact number: +886 5 267 9803
Type of bed: 2 Queen sized beds
Price: 2300 TWD / night inclusive of breakfast
Rating: 3.5 stars
Comments:
It was freaking 5 degree celcius, but they insisted that the heater can only be used at 9.30pm. We almost froze to death if not for the heat pads we bought at 7-Eleven! Soundproof not good - we heard children screaming at the top of their lungs/playing around all day. Apart from that everything else was good. It is located near the Alishan train station at about 5 minutes walking distance, and also near to the restaurants and shopping area.
4. Cingjing Star Gazing Garden (清境观星园)
Address:
546, Taiwan, Nantou County, Ren'ai Township, 大同村博望巷96號
Contact number: +886-492-802242
Type of bed: 2 Queen sized beds
Price: 3300 TWD/night, inclusive of dinner and breakfast
Rating: 5 stars
Dinner
Breakfast
Comments: Bed comes with adjustable electrical heat pad, it was very comfy given the cold weather. The place was scenic and beautiful, with many picture-worthy backgrounds.
5. Mark Village Jiufen
Type of bed: 1 Queen sized bed + 1 single bed
Comment: Location was quite near Jiufen Old Street, just 10 minutes walk away. The good thing about this hotel is that it is not along the stairs of Jiufen Old Street and is accessible by car, otherwise we would have a hard time pulling our luggage up the stairs! No breakfast is provided.
6. Formosa 101 Youth Hostel
Entrance
Main walkway
Common room
Address: 9th Floor, No 115 Keelung Road, Section 2, Taipei.
Contact number: +886-955-780359
Email: hostelformosa101@gmail.com
Type of bed: 3 bunk beds
Price: 1567.50 TWD/night
Rating: 5 stars
Comments:
My first youth hostel experience
, and it was much better than what I'd imagined. The location was rather easy to find, t
hough it is a 15 minutes walk from the nearest metro station (101 station - red line metro). The staying quarters were good, and the facilities were state of the art. Simple breakfast of toast and coffee/tea is provided every morning. Met some awesome new friends from around the world. Mr Cola who was on duty during the two days of my stay was really friendly and helpful. If you're looking for a place that feels like home, go to Formosa 101. P/S: Nutella is served for free at breakfast! How awesome is that?
6. Beimen Youth Hostel
Address: No. 21, Yanping South Rd, Zhongzheng District - Taipei, Taiwan
Contact number:
Type of bed: Luxury bunk beds
Price: 1560 TWD/night (discounted price)
Rating: 4.5 stars
Comments: Everything was good, except that I would like to suggest them to put a water dispenser on each level. Currently the only way you can get hot water / refill water is to go all the way from 6th floor (the rooms) to level B1 (underground floor 1), within certain time limits. Breakfast is not provided. It's a bit hard to meet new friends at this place, because the common room is on level B1, and honestly no one ever bothers to go down there unless they need to refill water.
GETTING AROUND
You pretty much don't have to worry much about this, because taxis offering travel packages are everywhere and the public transport system is good, but it is advisable to travel in big groups of 4 or 8 cos it's easier if you wanna book a car especially to places on the mountains such as Alishan or Cingjing.
We engaged this uncle named Zeng Zhao Li (曾昭立) for 4 days, and the price quoted was 5000 TWD/day. It was rather expensive as there are only 3 of us, so we had to pay double. He drove a LuxGen which could accommodate 7 passengers. I asked for the price for 7 persons, and he said it would be 6500 TWD/day. So it's definitely cheaper if you travel in big groups. This uncle was quite reliable and friendly. He has a Facebook page for all the groups he brought around for travel.
Email: i7taiwan@hotmail.com
Contact: +886-932-506119
TIPS ON SAVING MONEY
1. Refill free water at every chance you have. Every drop counts.
2. Apply for Youth Travel Card either at the Taoyuan Airport or any MRT service counter. You will get discounts to certain tourist destinations. For example, we got 100 TWD off for our ticket to National Palace Museum (故宫), from the original 250 TWD to only 150 TWD.
3. Apply for free wifi at MRT service counter. This will entitle you to free wifi whenever you are around the MRT.
4. Buy phone package without wifi. Wifi is usually available for free at your accommodation and MRT. In addition, bear in mind that Taiwan is strict on mobile number application, so remember to bring along your passport and hotel address when you buy a SIM card at 7-Eleven.
5. Research on the cheapest accommodation. The cheapest I can find is around 500 TWD/person/night. The keywords you should type in Google search is 台湾住宿500元
6. Don't pre-book your car unless you have 7/8 persons in a group. Walk around, ask for prices and compare.
7. Pack light. This saves your luggage expenses. Bring along old stuff (socks/slippers) and disposable panties, wear and dispose to lighten your luggage.
8. Don't purchase overpriced souvenirs! Postcards should not exceed 20 TWD. (P/S: You can get 10 TWD postcards at Formosa 101). Unique designs can be found in Tamshui Old Street and Ximen Red House. You can get magnets at 40 TWD (small) or 50-60 TWD (big).
9. Avoid shopping at Ximending. Their price range is mid-high. Go for Tamshui instead for good, cheap stuff.
10. If it's winter, prepare your own winter gear (can borrow for friends and family) instead of buying here. It costs 1500 TWD - 2880 TWD here, which is pretty expensive. I bought mine for 1800 TWD after bargaining, from the original 1980 TWD.
11. Currency exchange. See related passage below.
SHOPPING
1. Buy masks at Taiwan. 7-Eleven and Watsons often have promo for Beauty Diary, Naruko, Beauty Buffet and Hada Labo masks.
2. Go to Ximen Red House for unique, quirky (and cheaper) souvenirs.
3. Tamshui old street is a good shopping place.
4. Surprisingly, CingJing farm sells cheap souvenirs too. They have a buy 1 free 1 promo on Valentine's Day, so I bought their goat's milk facial cream, Only 180 TWD for 2 bottles, so
dai
right?
5. Don't be afraid to bargain if the place does not have a storefront (i.e. roadside stalls selling bags, purses and clothes).
6. Spend your money wisely. Advisable to spend around 1000 TWD per day, or according to your daily budget.
CURRENCY EXCHANGE
If you have already booked a flight (if months before), check the daily currency exchange rate. If the rate is good, exchange the needed currency without any delay. You never know, cos Malaysian currency is unstable. In Taiwan, only the Taiwan First Bank allows for currency exchange (located in World Trade Center 3rd Floor Taipei) and the rate is appalling. For RM300, you only get 2275 TWD. That means approximately RM60 is eaten up by the bank, which is a big loss
.