Winnings:
A beautiful
Swinging on a Star
pendant from
Teddy Started It Blog
. I just love it! Denise also made an announcement here:
Number 12's a Winner (and a special offer)
You can also find Denise on
FlutterbyGirly
&
teddystartedit
on Etsy.
An Autumn Flower scarf from
Dahlia Scarves
from
Musings from Mom School
.
LITTLE BLACK LIES by Tish Cohen
on
The Hiding Spot
For review: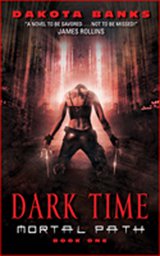 A SIGNED paperback copy of Dark Time: Mortal Path Book One
by Dakota Banks. Enter to win a
NEW iPOD TOUCH 32GB SECOND GENERATION
here:
Dark Time Contest
I got a whole stack of books from a lovely middle-aged woman today. These are all free samples and she kindly offered all of them to me! How great is that! I think all these probably cost more than RM 100.
I flipped open the Physics book and found an interesting question:
Q : Why do grass appear green?
A : Grass appear green because the leaves of the grass absorb all the colours of the spectrum except green. Green light is reflected, therefore grass appears green.
I always thought it was the chlorophyll...
My 7-year-old (youngest) brother Jack broke his arm yesterday while riding his bicycle up a hill. No, it's not a hill, it's a small pile of red soil. The poor little baby walked home with tear streaks on his chubby face and kept complaining his how his arm hurts. My dad 'rushed' him to the hospital at 40 km/h because the pain on Jack's arm started to double up every time the car vibrates. He had a bandage and couldn't move his arm. How my heart hurts when I see him in pain!
I don't remember when is this photo taken, but I want to share it with all of you. Have you ever seen a baby pomelo growing inside a big pomelo?